Welcome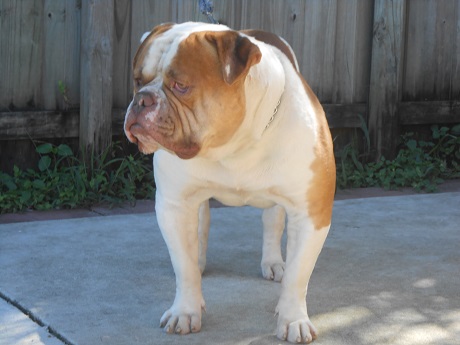 History
The American Bulldog descended from ancient Mastiffs, brought to Europe by nomads in 1066, during the reign of Caesar. Due to its incredible courage and fighting ability, it was used to fight or bring down belligerent and threatening preys like wild bears, big cats, etc. A very tough strain of Mastiff called Alaunts came in after the arrival of the Normans around 400 AD. The breeding of the mastiffs to the Alaunts' produced the English Bulldog. Its 'lock jaw grip' ability enabled it to chase, catch and hang onto the nose, throat or cheek of any large animal and not let them go, no matter how hard the animal struggled.
During 17th and 18th centuries, English Bulldog was commonly used as a guardian and butcher dog on farms to hold livestock. It was also being used in blood sports like bull-baiting, for gambling and entertainment purposes. In 1835, bull-baiting was banned in the United States, and the bulldog was conceived as a loving and submissive pet. By the end of World War II, this breed was almost extinct until, John D. Johnson and his father decided to revive the breed. With Alan Scott and several other breeders, they began to breed American Bulldogs and maintained their health and working abilities. Later, Johnson and Scott separated and bred two different versions of the American Bulldog. On January 1, 1999, the American Bulldog was recognized by the United Kennel Club.



Appearance


The American Bulldog is well-built, stocky and hard-working with powerful jaws. Its muzzle is square and box-shaped, and ears are uncropped or rose-shaped. It has a short and smooth coat, that is stiff to touch. The Bulldog has a white coat or any color pattern including black, red, brown and all shades of brindle. It has a pigmentation (especially black) on the nose and the eye color is brown. American Bulldogs can be droolers, if they are looser jowled or lipped.